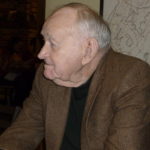 By Robert H. Cree
Visitors to the beautiful I.O.O.F. cemetery near Mapleton are often surprised and somewhat puzzled when they see the unusual granite slab that marks the grave of a Huntingdon County native who laid claim to being the author of one of America's most popular patriotic songs.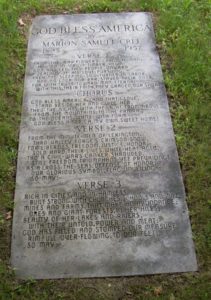 Marion Samuel (Sam) Cree was born in Mapleton, Huntingdon County, Pennsylvania, on March 25, 1895, and was the youngest son of William David and Emma Susan (Robley) Cree. His father died when he was three years old, and several years later, his mother, who was remarried to Albert Myers, moved to western Pennsylvania. Sam, or Tink, as he was known to family and friends, remained with his Aunt Mattie in Mapleton until he finished elementary school, at which time he rejoined his mother, who was then living in Brownsville. He finished high school there, enrolled in and graduated from the Chalfant Business College, and then went to work for a local insurance company.
On July 31, 1917, Sam Cree enlisted in the U.S. Air Force and was soon sent to France, where he served honorably and with distinction until his discharge in August of 1919. Upon his return from the service, he operated a welding business in Washington, Pennsylvania, for some time and then went to work for the Jessup Steel Co., where he was employed for the next 17 years.
Sam Cree was a gifted singer and songwriter. He particularly liked to write patriotic songs, and he was in great demand to sing these songs at picnics and war veteran events. Some of his music, he actually published. However, the song that was his favorite and which was most popular with his friends and comrades was his "God Bless America." Sometime after he had introduced this song, Mr. Cree saw an advertisement in a veterans' magazine concerning a nationwide search for a song to replace the "Star Spangled Banner" as the national anthem. Believing that his "God Bless America" could very well be a winner in this search, he submitted it to the publishing house that had run the advertisement, a publishing house that was reportedly owned by the noted New York songwriter Irving Berlin. Apparently Sam Cree heard nothing further concerning the song that he had submitted. However, in November of 1938, fellow employees at the mill where he worked informed him one morning that they had heard Kate Smith sing his song the previous night on her radio show. The song became an immediate success and was widely acclaimed as another great hit for Irving Berlin.
Sam Cree shortly thereafter began legal proceedings in an effort to gain recognition as the true author of the song. Although the lyrics of Berlin's version were somewhat different from those of Mr. Cree's version, the melody and the words of the chorus were nearly identical. The rights to the ownership of "God Bless America" were involved in litigation for over 15 years, but Sam Cree was never successful in achieving a victory in the courts. Apparently, the defendants in this litigation successfully argued that one of the provisions of the original contest was that all songs submitted were to become the property of the publishing house.
By the summer of 1957, after many years of trying to prove his claim, Mr. Cree was physically and financially exhausted and was suffering from a severe heart condition. Fearing that he had not much longer to live, he made a trip to his boyhood hometown of Mapleton, where he selected a cemetery plot high up on the hillside of the I.O.O.F. cemetery. He also made arrangements to have the three verses and the chorus of his "God Bless America" inscribed on a three-foot by six-foot granite slab.
On the 4th of November, 1957, Marion Samuel Cree passed away at his home in Washington, Pennsylvania. In accordance with his wishes, he was buried at Mapleton beneath the stone slab on which was engraved the words of his beloved "God Bless America." Although his authorship of this song will always be credited to Irving Berlin, the words on this stone will forever remind visitors that they could very well have been written by a native son of Huntingdon County.