This research was done and placed in the Huntingdon County Historical Society files by Robert H. Cree. The information conflicts with the date that appears on a plaque mounted on the bridge. Based on information accepted by the County, a One Hundredth Anniversary observance was held at the bridge in October 1989.
Cree had researched the bridge in connection with his long-standing interest in covered bridges and submitted it for the HCHS files in order to set straight the historical record with respect to Huntingdon County's only surviving covered bridge. Research of this kind — documenting the true history of a person, place, or event to which an inaccurate or garbled story has become attached — earned Cree the nickname "The Old Debunker," a moniker he delighted in.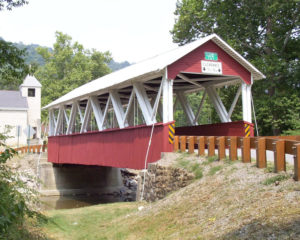 The Shade Gap or St. Mary's Covered Bridge (World Guide No. 38-31-01) carries Township Road T-358 over Shade Creek and is located approximately two miles northwest of the village of Shade Gap, in Cromwell Township, Huntingdon County, Pennsylvania.
This bridge is a single-span structure, 66 feet in length, and is one of only four Howe Truss bridges remaining in Pennsylvania. It is also the only authentic covered bridge remaining in Huntingdon County. In 1982, this bridge was repaired and renovated by the Huntingdon County Commissioners, and at that time, four 27-inch steel I-beams were installed under the original timber floor system of the structure, making it, in effect, a single-span I-beam bridge.
In the Minute Book of the Huntingdon County Commissioners for the year 1896 are found the following entries:
April 16 – Bids opened for bridge near Catholic Church, north of Shade Gap
April 23 – Bid for above bridge awarded to Contractor E.O. Rogers for the
sum of $540.00.
On page 441 of the "Shade Gap Area Centennial Book" is the following notation: "The historic Shade Gap Covered Bridge is located near Shade Gap Narrows. It was built in approximately 1895."
Although there was a bronze plaque placed on the bridge by the Huntingdon County Commissioners, which states that the bridge was built in 1889, it would appear from the above noted information that it was, in fact, built in 1896.