ROBERT ALLISON'S MARCH TO BUFFALO AS CAPTAIN OF THE "HUNTINGDON LIGHT INFANTRY" IN THE WAR OF 1812
Waypoints & Mileage
Because the paths followed by Native Americans conformed to the topography of the areas they traversed — seeking the easiest routes through the mountains and across the rivers — it is not surprising to find that successive transportation routes were laid upon these ancient paths. And so, 200 years after Allison and his men marched from Huntingdon, Pennsylvania, to Buffalo, New York, it is possible to trace his route fairly closely on a modern highway map.
Allison followed the Juniata River from Huntingdon to Petersburg, then to the gap in Tussey Mountain at Barree Forge, through which the Little Juniata passes. He crossed over the end of the mountain, on a road described on page 273 of Africa's History of Huntingdon & Blair Counties as passing over the end of the mountain and meeting Spruce Creek at the "Hook" — the location on present Route 45 where the ruins of the old stone tollhouse and the converted Hook schoolhouse stand. From that point, he followed Route 45 to Pine Grove Mills, where he picked up Route 26 (the road that linked the Huntingdon and Centre County courthouses) to Bellefonte and Milesburg. Old U.S. Route 220 then took him to Lock Haven, Jersey Shore, and Williamsport.
From Williamsport, Allison followed Route 15 across the Pennsylvania-New York border to Painted Post and on to Campbell, Bath, and Hornell, still on 15. Turning west on Route 17 at Hornell took him to Dansville and then Route 36 to Geneseo and Caledonia. Route 5 west to Batavia and Buffalo completed the march.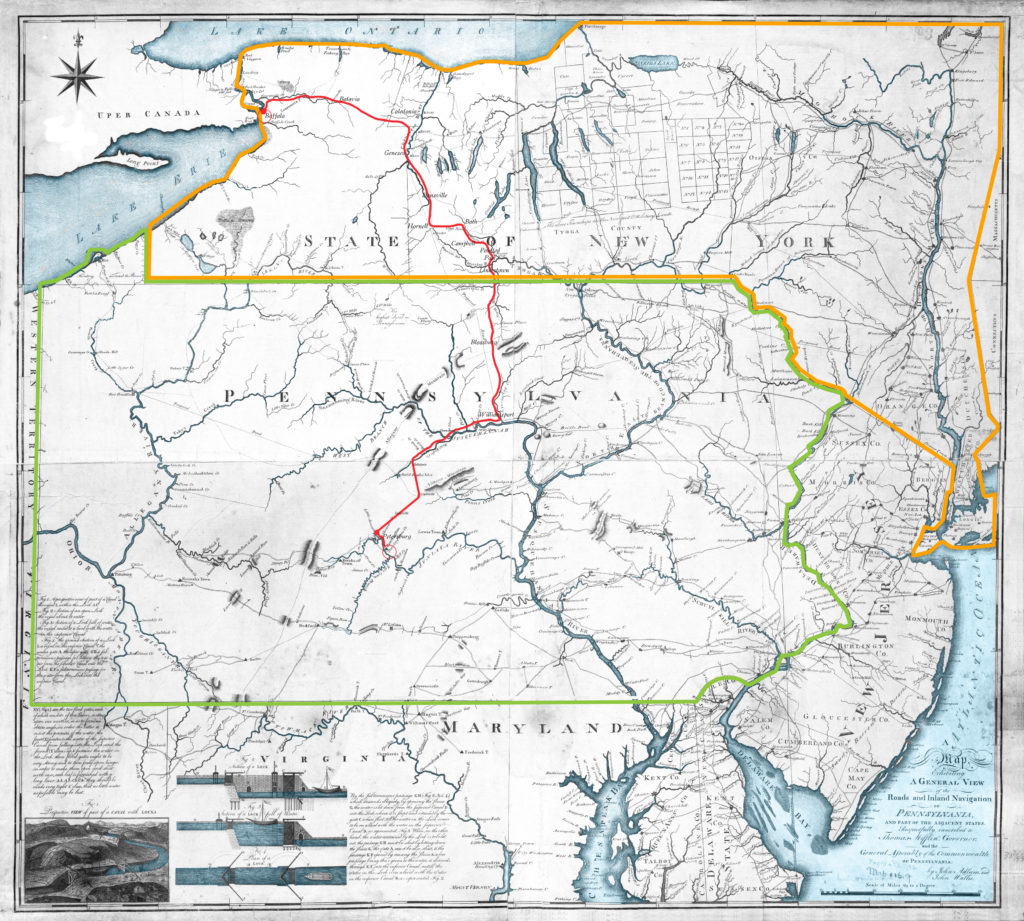 Map credit line: A General View of the Roads and Inland Navigation of Pennsylvania and Part of the Adjacent States by John Adlum and John Wallis, 1791.
| Departed | From | Miles to next stop |
| --- | --- | --- |
| Sept. 7 | Huntingdon | 6 mi. |
| Sept. 8 | Petersburg | 9 mi. |
| | Mr. Marshall's | 7 mi. |
| Sept. 9 | Gray's | 6 mi. |
| | Fredr. Dale's | 8 mi. |
| Sept. 10 | James Johnston's | 11 mi. |
| | (Centreville) | |
| Sept. 11 | Bellefonte | 14 mi. |
| | (Evan Miles) | |
| | G. McKinney's | |
| Sept. 12 | Alex. Robinson | 8 mi. |
| | Sebastian Shade's | 6 mi. |
| | Ferry on Susquehanna | |
| Sept. 13 | (Dunnsburg) | 9 mi. |
| | Stephen Duncan's | 3 mi. |
| Sept. 14 | Jersey's | 6 mi. |
| | Bennett's | 10 mi. |
| Sept. 17 | Williamsport | 6 mi. |
| | John Hays | 8 mi. |
| Sept. 18 | Reynold's | 6 mi. |
| | Trout Run | 14 ? mi. |
| Sept. 19 | Hew's | 5 mi. + ? |
| | (Blockhouse) | |
| Sept. 20 | Aaron Bloss's | 5 ? mi. |
| | (Peter's Camp Ð crossed Tioga River) | |
| | John G. Youngman's | 14 mi. |
| Sept. 21 | D. Willard | 10 mi. |
| | (crossed Tioga R. 3 times) | |
| | Linleytown | |
| | (crossed NY border Ð passed the Cowanesque) | |
| Sept. 22 | James Ford | 12 mi. |
| | (leaving Ford's pd. James Cook for transport across river Ð crossed Tioga twice) | |
| | (crossed Cannistee River, then the Cohoctan) | |
| Sept. 23 | Irwin's | 18 ? mi. |
| | (Painted Post) | |
| | Campbell's | |
| Sept. 25 | Bath | 20 mi. |
| | (house of Capt. Bull) | |
| Sept. 26 | Hornell | 5 mi. |
| | C. Hurlbrit's | 12 mi. |
| Sept. 27 | Dansville | 5 mi. |
| | Mr. Kennedy's | 18 mi. |
| Sept. 28 | Bigtree (Gennesseo) | |
| | Lages | |
| Sept. 29 | Caledonia | |
| | Jensen's | |
| Sept. 30 | Batavia | 18 mi. |
| | McCracken's | |
| Oct. 1 | Vandevanter's | 14 mi. |
| | Harris's | |
| Oct. 2 | Arrived at Buffaloe Oct. 2. | Landis |
| | Remained at Buffaloe into Dec. awaiting orders with men suffering from lack of warm clothing and no pay. | |
The full text of Allison's Journal follows, from which the table above was created:
Huntingdon, Penna. 22d Aug. 1812
Received from Captain Jas. Wheaton, assistant D.Q.M. Commission from the President for myself and two subaltern officers be ____date 14th of the present month and orders from the Secretary at War to march my company to headquarters at Niagara – also recd. his Bill of Expenses on W. Eustis to be negotiated [at] the Chambersburg Bank ___ the sum of $632.40, [for] which purpose I set [off for] that place and received [the] money – having spent five entire days in transacting the business. Capt. Wheaton stated to me that I was ordered as holding a ____ command & would be ______ to double ration – [last few lines at bottom of page unreadable]
To examine the men whether any of them from Secret Bodily Infirmity is unable to perform the duties required of them – who reported Henry Swoope as unfit – he is discharged.
__ Sept. advanced for flower ___ Bags, whiskey and fish                   $31.50
Paid J. McCahan for hams and bacon                                         20.75
Graffius for camp kettles    7.00
McCahan for bacon    4.62
McConnell for sugar & chocolate                                       13.00
___ed to the Brigade Inspector ____ the 6th of Sept. recd. for use of the company Twelve pounds powder _____ doz. of ball & Twelve dozen ____ ? the property of the State.
Copy of a letter sent to Tho. Custer Esq. Adjutant Genl. 6 Sept. 1812
Huntingdon Penna. 6 Sept. 1812
Sir.
Agreeable to the Instructions from the Secretary at War , I have the honor to inform you that today at 2 o'clock P.M. my company will march from this place for headquarters at Niagara.
Enclosed I send you a muster roll, or what is intended to take the place of one, having never been in service or even seen _____ ? be an apology for _____ of form and military stile. [There] is some variation between enclosed roll & that furnished Capt. Wheaton, owing to new [men] having joined company, & [one] being totally unable from bodily infirmities to [serve]. Other changes will ________ yet take place.
Twenty four days [is] the time for which the [bill] of expenses was made by _____ & myself for marching, allowing for bad weather, computing the distance at 250 miles by the road which I must go, but on further enquiry the distance is greater and my men are all young and inexperienced in the Toils of War. I must therefore use great caution & make short marches at the out-set. Every exertion in my power consistent with the abilities of the men shall be made [to] be at headquarters within the estimated time. I found it would be altogether impractical to transport my company without the aid of a baggage waggon & so employed one at the expense [of] the company in hopes with ____ economy to be able to save ____ of the estimate. Is it proper for me to ask of you [to] interfere & write to the person [who] employs waggons at headquarters, [regarding] our situation, in order [that it] might be got into public [service] on our arrival there.
I have the honor to be respectfully yours, R.A.
7th Sept. 2 o'clock P.M. left Huntingdon & arrived at Petersburg (6 m.) at 5 o'clock. Spent a night without much sleep owing in part to anxiety of mind & more to the noise of the soldiers & intemperate & noisy conduct of _____ citizens – handsomely & hospitably entertained by Mr. ___ who refused taking any compensation. Distance 6 m.
8 Sept. left Petersburg at half past five o'clock & arrived at Mr. Marshall's half past 9 o'clock (distance 9 miles) breakfasted & well entertained, for which Mr. Marshall [refused] to receive any compensation. At 1/2 past 12 o'clock resumed our march & arrived [at] Gray's at 4 o'clock (7 m.) in all 16 miles – and [paid] his bill of expenses, $9.__
9 Sept. marched from Jno. Gray's half past five o'clock & arrived at Fredk. Dale's at 9 o'clock. There breakfasted (6 miles) – a number of neighboring citizens refused to let the soldiers pay any bill and advanced the amount to the Landlord – a well disposed liberal man – moved on to James Johnston's at Centreville where we arrived at 1/2 past three o'clock the distance 8 miles, making the entire days march 14 m. The men considerably fatigued. Several of them unwell. Badly entertained, four soldiers obliged to go to bed supperless, & the Landlord anxious to receive tavern _____ for each meals victuals. With difficulty he accepted ____ cents per man for midling [fare] & charged 1 Dol. for a bottle of cherry bounce. Officers & men generally ______.
Thursday 10 Sept. marched from Johnston's to Bellefonte where we found an elegant breakfast prepared at the house of Evan Miles & given at the expense of the citizens. Remained there until 5 o'clock P.M. [to] get washing done for the company – 4 dollars. Whole days march 11 miles.
Friday 11th marched to G___ McKinney's who had prepared an excellent breakfast for the whole company who ____ of it with great cheerfulness & each sergeant & ______ had his canteen filled with whiskey for _____ all gratuitously ________. Then moved on to Alexander Robinson's, making the march of this day 14 miles taking into view that we went 1/2 a mile out of the road to Mr. McKinney's. Paid expenses at Alex. Robertson's $9.20.
Saturday 12th Sept. marched from Alex. Robertson's to Sebastian Shade's for Breakfast (8 miles) well entertained – a liberal man – pd. expenses $7.20. Then proceeded to the ferry on the Susquehanna opposite Dunnsburg – paid ferriage of the soldiers 3 cts. p. man $1.44. Then arrived at Jno. White's Dunnsburg – distance 6 m. – well entertained, paid expenses $8.20.
Marched on Sunday morning 13th Sept. from Dunnsburg to Stephen Duncan's (9 miles) ___ Breakfast. Liberally entertained without expense. Moved on to Jersey Shore (distance 3 miles) the citizens had provided a handsome entertainment for us at their expense.
Monday 14th Sept. left Jersey Shore, Marched to Bennett's (6 miles) for breakfast. A number of citizens paid the soldiers bill – moved on to Williamsport (10 miles)
Tuesday 15 remained at Wmsport to get washing & baking done. A detachment of regular troops under command of Col. Park____ arrived – which determined me to remain one day longer in order that they might go ahead. Paid expenses of cleaning fish etc. $____ paid for an axe ____ Do. baking bread $______
Wednesday 16 remained at same. Paid Henry Pickle expenses of the soldiers $______.
Thursday 17. March to Jno. Hays for Breakfast (6 miles) paid expenses $7.20. Moved on to Reynolds 8 m. making this days march 14 m. commenced a slight rain at 12 o'clock & appearances of bad weather – Mr. Reynolds a very liberal generous man charging 12 1/2 cts. p. man. Total expenses paid $6.62.
Friday 18th left Reynolds and marched up Trout Run at the head of which, about 6 miles, breakfasted on cold bacon, herring, etc. previously prepared, then moved on to Hew's, one of the worst roads ever traveled either [by] man or beast – the total distance ______ to be 14 1/2 miles. The place called the Block house. Paid expenses for company $9.60.
Saturday 19th left Hew's & at the end of about 5 mile, at a small run _____ on the same fare as yesterday – then proceed to Bloss, commonly called Peter's camp, though almost an entire wilderness excepively bad road. Stoney & swampy – arrived at Blos's at half past two o'clock, the men much fatigued and the horses of the baggage waggon much wearied.
This day at the breakfasting place George Thompson strayed into the woods and became lost. Dispatched soldiers in pursuit of him who ____ with him – having found the road _____ pursuing the company (distance 12 miles) – crossed Tioga river at Blos's. Paid Aaron Bloss expenses $9.60.
Sunday 20th left Blos's a little after day light & marched to John G. Youngman's for breakfast – distance 5 1/2 miles – rained part of the [way]. Paid expenses $9.__. Proceeded to D. Willard __ miles, making this days [march] altogether 19 1/2 miles. Crossed the Tioga three times. Paid expenses $2___ & remained till after breakfast.
Monday 21st left Dr. Wm Wil____ and proceeded on our march. Crossed the line into New [York] at Linley Town passed the Cowanesque and halted at the house of James Ford, a genteel liberal man, well entertained – total amount of expenses $6.50. Distance this day ten miles,
Tuesday 22nd Moved from Ford's – crossed the Tioga twice & paid James Cook for transporting the company over the crossing $1.00 ___ Tioga & over Cannnistee river – halted a few minutes at Irwin's near the Cannistee & then moved on across the Cohoctan river over a bridge to Irwin's at the painted post – distance 12 m. A rain commenced at half past __ o'clock & wet the soldiers considerably.
Wednesday 23rd left painted [post] & marched to Campbell's _____ for breakfast. Purchased [bread] & milk for men. Paid expenses $2.00. ____ proceeded to Bath ___ miles – total days marching 18 1/2 miles. Halted at the house of Capt. Bull.
Thursday 24th Sept. remained at Bath to have washing done, bread baked, etc. Paid for bacon & bringing it (?) $2.3_ Paid Saml. Nixon for bread $5.__
Paid Cowell Bull expenses $37.50. [Total] $45.7_.
Friday 25 marched from Bath before day along the Turnpike road to Hornell, distance 20 miles. Paid expenses of company $6.80.
Saturday 26 moved on to C. Hurlbrit's for breakfast & I pd. for milk $___. Distance 5 miles – then marched on to Dansville 12 miles, making this days march 17 m. Paid expenses to Jon. Rom___ at Dansville $12.__.
Sunday 27 paid for bread 1.__ left Dansville & marched to Mr. Kennedy's , breakfasted – 5 miles. Moved on to Bigtree (Gennesseo) – distance this day ___. Paid for Bread at Genesseeo $0.75.
Monday 28 left Genesseeo. Marched to Lages for Breakfast
paid for bread on the road – .25.
Pd for milk at Bigtree .25
Pd. for milk at Lages – 1.00
Pd. for Bread on the road .62 1/2
Pd. for flower at Caledonia 3.87 1/2
Pd. at Caledonia for whiskey 2.25
Milk & potatoes
Remained at Caledonia making this days march 18 miles.
Paid for bread & baking at Caledonia $2.00
Paid for Do. on the road .43
[Tues]day 29th Sep. left Caledonia and marched to Jensen's for breakfast. Paid for milk $.67. On to Batavia making the whole days march 18 miles.
Isaac Spencer for pork $18.75
Brisbin for bread & beef 8.26
Keyes for milk 1.00
[Wednesday] 30th left Batavia [marched to] McCracken's for breakfast. Paid for milk 1.25 – Moved on & at Bruce's pd for 2 qts. whiskey .75 – Marched to Vandevanter's (a damned dirty uncomfortable house) making the whole days march 18 miles.
Thursday 1st Oct. left Vandevanter's, moved to Harris's for breakfast. Pd. for milk & whiskey $2.37 at Harris's. Marched to Landis, the whole days march being 14 m. Paid for coffee, whiskey and baking bread $2.__.
Friday 2nd Oct. moved to Buffaloe 8 miles – having ____ the road called on Genl. S_____ who had no orders for me – ____ to Buffaloe who recommended ____ my stay there till he would [receive] a communication from Vanranselear. Pd for _____ at Miller's on the march. Pd for bread at Buffaloe.
Saturday 3rd Oct. remained at Buffaloe to wash etc. having on yesterday called on Genl. Hall who recommended my remaining at Buffaloe till he would write & receive an answer from Genl. Vanranselear with regard to my destination. Paid Norton & Davis for bacon $3.15 – Paid for bread 1.68. Paid for Do. .75.
Sunday 4th Oct. remained at Buffaloe waiting for orders & drew a provision return for 48 rations of bread for use of my company.
Monday 5th Oct. remained at same place & drew a provision order for my company consisting of 48 men & one woman for 98 compleat rations at 2 o'clock P.M. ____ for company exclusive of officers.
Tuesday 6th Oct. remained at same place.
Wednesday 7th drew a provisions order for 98 rations for the company (exclusive of officers). Commencing on 7th Oct. same _______ received a verbal communication from Genl. Hall that he had orders from Genl. Vanranselear to remain at Buffaloe till further orders & that all Penna. Troops were to do so.
8th Oct. reported to Genl. Hall as follows:
Buffaloe 8th Oct. 1812
Sir,
In obedience to orders from the Honorable W. Eustis, Secretary of War, bearing date the 14th Aug. last I have the honor to report to you that I am arrived at this place (after a march of 331 miles) with a company of Volunteer Infantry from Penna. consisting of
One captain
2 subalterns
4 sergeants
4 corporals
2 musicians &
38 privates
all of whom are subject to ___ orders.
I am respectfully, R.A.
Paid Henry Miller waggon _____
Paid W. Donaldson & others
9th Oct. drew a provision order for 98 compleat rations for my company exclusive of officers & servants.
11th drew a provision order for 98 rations
13th drew a provision order for 100 rations, having recruited one other female.
15th – 14 more entries with dates torn off: all drawing from 88 to 135 rations
(Copy)
Buffalo – 19 Oct. 1812
Sir,
In obedience to your orders dated 14 Aug. last delivered by Capt. Wheaton on the 22nd of the same month, I marched with my company of volunteers from Huntingdon Penna. on the 7th Sept. & arrived at this place (after a march of 331 miles without tents) on the 2nd of the present month, where I was halted by orders from the Commander in Chief. We are yet without tents or any prospect of getting them – my men have no winter underdress, being directed to leave home with linnen pantaloons & waistcoats – their shoes are worn out & many of them have no stockings and are entirely without the means of providing any kind of comfortable clothing suitable for the present approaching season, which this climate particularly requires. After direct enquiry I cannot find any person authorized or who has the means of advancing to my men the _____ of clothing, agreeably to the act of congress, or even to pay them their wages as soldiers. I am willing to submit to many inconveniences, but the clamors of my [men] & seeing them shivering in [the] cold for want of clothing m[orning] & evening, when on guard [is] very distressing. My Company is not the only one in this situation – there are two others from Penna. out of which 5 of their men have deserted, and unless some pecuniary relief is shortly afforded, I fear it will be impossible to keep our men together.
Having received my orders direct from you, & there being no person here to whom I can apply must be an apology for this communication on which I hope will not be overlooked but immediately attended to for the good of the service.
I have the honor etc.
— Oct. called on Genl. Smith & recd. his directions to appoint the officer of the day & give the ____ over ____ their further orders.
3rd Nov. Geo. Armitage, James Simpson, Abm. Vandevande, L. Westbrook deserted – 4 pursued them to Cattaranges. I proceeded towards Conewango – overtook them – 3 first returned.
12th Nov. Recd. from Capt. James Thomas D.Q.M. $1737.60 in lieu of clothing for the members of my company.
16 Nov. drew for three days provisions being 135 rations
19 Nov. drew for 135 Do.
22 Nov. 135 Do.
22 Nov. George Thompson discharged from service by Col. McClure.
23rd drew from Cap. James Thompson D.Q.M. 45 cartridge boxes & bayonet belts for use of my company.
Huntingdon Penna. 27 Dec. 1812
Sir,
I have returned from the Niagara frontier on furlough, and finding the situation of my private concerns such that it is totally impossible for me to remain longer in the Army, I therefore resign my commission as Capt. of Infantry of volunteers in the service of the U.S.
Should it be necessary for me to repair to Washington to settle my account of transportation, I shall on receiving notice proceed there during the month of February.
Since my departure from my company they have all (except one who had been previously discharged & two who had run off) went off & are scattered over the country with a full determination not to return into service.
I have the honor to be etc.
R.A.