"An Account of Huntingdon County, Pennsylvania"
By Joseph Adams
Published in Collections, Historical Society of Pennsylvania, November 1853.
From Adams' letter that precedes his account, below, it is obvious that the Historical Society of Pennsylvania in Philadelphia had made inquiries concerning the early history of Huntingdon County to which Adams was responding. These are the same inquiries referred to in the Preface to U.J. Jones' History of the Early Settlement of the Juniata Valley (1855), the responses to which Jones claims were not to be found when his book was being prepared for publication.
From the relation of Michael Maguire, which follows Adams' introductory account of the early history of Huntingdon County, it is possible to infer the questions that formed an outline of the interviews Adams conducted in 1845 with aged residents who had been early settlers many years before.
When did you and your family come into the county?
What other settlers were already here or came at about the same time?
Are any houses still standing that date from that time?
What did the country look like then?
What animals were most common?
Do you know of any ancient maps or documents remaining from that time?
What coins were in use?
Do you know of any Indian graves?
What Indian names for geographical features do you know of?
Are any Indian landmarks preserved?
Do any Revolutionary soldiers survive?
Do you know any songs that were sung by early settlers?
Describe events that occurred locally during the Revolutionary War period.
Describe the pastimes and customs of the early period.
Adams gives no source for the first long section of his account. It is assumed that it derives from his own memories and from stories recounted to him by others during his lifetime.
Gentlemen – You will see all that I have done to procure information for your Society, respecting the early settling of our county. I regret exceedingly that your inquiries had not been commenced sooner, while more of the early settlers were alive. Old records are very scarce.
I have visited several aged persons and obtained all the information from them they could recollect of the early settlement of our county, but they have been little accustomed to writing, and for a number of years have talked so little about the hardships and privations of the early settling of our county, that they have nearly forgotten them; whose memories could only be strengthened by questions.
I have devoted some time to procure information on all subjects, to which your circular refers, and am in hopes I may yet procure some more information which may be valuable to your Society.
Very respectfully,                            Jos. Adams
If any custom has been established among us by long usage and general practice, it is the deadly practice of drinking whiskey, which prevailed among our whole community, among Judges of the Courts, members of the bar, ministers of the gospel, physicians and patients, farmers and mechanics, servants and laborers. It was used when we were born, when we were buried; when we rose in the morning, when we went to bed at night; before dinner and after dinner; when we were full, and when we were hungry; when we were sick and when we were well; when we were cold and when we were hot. It was the universal panacea. Some of our citizens can remember and count fifty and sixty persons who killed themselves by its use within their recollection, in their own neighborhood.
The settlement of our county commenced in 1754 by Indian traders, and hunters, as appears by surveys of several tracts of land in 1755. Amongst those pioneers, a Mr. Hart deserves particular notice, from the fact that one of the vallies in the centre of our county took its name from his Camp or tent's being made against a large log, near or where the town of Alexandria now stands; hence the name Harts-log valley, where he resided or lodged while he remained there.
Mr. Brady and wife were among the first settlers of the Standing Stone, a monument of the aborigines standing where Huntingdon now stands, the vicinity around which bore that name for several years, and amongst the first white children born in our county in 1767 was Gen. Hugh Brady, of the U.S. Army, and his sister Jane, lately deceased at Northumberland.
Col. Geo. Croghan was also one of the early pioneers of our county, and located some of the finest tracts of land in our county, immediately after the land office was opened by the proprietors.
The Deputy Surveyors were also amongst the foremost in exploring our county, after the county was purchased by the proprietors from the Indians.
These pioneers were fitted by long practice for enduring hardships in a wilderness without murmurings, having nothing but a rifle and knife to supply their wants, and could subsist for a long period of time with only what game they killed and hard bread, game was very plenty and was easily taken or killed; animals and reptiles were also plenty, snakes especially, those deadly poisonous kind, called rattlesnakes and copperheads, were common; it was not unusual for workmen to kill three or four in a day, clearing their lands. The bite of either was of the most poisonous kind as well as dangerous, and many of our early settlers were bitten by them. The county settled very slowly for the first ten or fifteen years, owing to the difficulty of getting bread or flour ground, having had to subsist entirely on hominy, potatoes, and game for several years. Miner's mill was erected about the year 1767, and from that date our county settled up rapidly, until the Revolutionary War broke out in 1775, in which the Indians and frontiers became involved, and in which our inhabitants were severe sufferers, and which shall be noticed in their proper place.
Caldwell's family settled in Hartlog valley among the first settlers of our county, the descendants of whom remain amongst us. Engarts [Enyeart] family, Elder's and Thos. Wilson's family settled on the Raystown Branch, Lloyd's and Brackenridge's settled in Woodcock valley; Ricket's Duvitt's and Gen. McAlwy settled in Stone valley; Anderson, McCormick and Ewing's families settled on Shaver's Creek.
Weston's family settled at Warriomack [Warriors Mark]; Jacob Rollus' [Roller] family settled in Sinking valley; Dean's and Beatty's and Simonton's settled in Canoe valley, Capt. Philips and Clappus [Clapper] settled in Morrison's Cove; Holliday's, Lowery's, Moore's, Titus's, and M'Cane's settled in Frankstown Settlement. Hare's family settled in Hare's valley; Eaton's family settled in the west end of Kishacoquillas valley; Galbreath's, Foley's, and Clugages settled on Dughwick [Aughwick] Creek. About the time of the early settlement of our county, Col. Armstrong marched his troops through our county on his way to destroy the Kittanning Indian towns on the Alleghany River. At Frankstown, they got on the Kittanning path which leads to that ill-fated town. Almost all the early settlers of our county when they removed their families to our county, brought them into our county by water in canoes, which were the only craft with which our rivers were navigated.
Our county belonged to Bedford in 1787. Our county was erected out of Bedford and parts of Cumberland.
The first court was held at Huntingdon in Sept. 1787, by Hon. T. Smith, late of the Supreme Court of Pennsylvania, in a small house that is yet standing, and one end of which was occupied as a tavern, at the bar of which the citizens partook largely of whiskey and toddies. About the time Judge Smith was commencing to charge the first jury of the county in the cause they had been trying, an acquaintance of the Judge carried in a bowl of toddy into the court up to the President Judge, and called out, here Tom, take a blow of this before you begin. But the Judge took the offer of his friend as an insult, and ordered him to jail, into which solitary building he was conveyed by the Sheriff, in the shape of a sheep pen, without chunk or daubing, where he remained over night, for which he never forgave his old friend Judge Smith, for treating him with unusual severity. That house is still standing, along with three other court houses which are all yet standing. A large log building was erected a few years after the organizing of the county for a jail. Before it was fully finished, a prisoner was confined, who by some means communicated fire to the jail, and consumed the building and himself together.
About this period, 1790, the convention reported a new Constitution for the State of Pennsylvania. Against the adoption of this Constitution, a very strong opposition was made by some of our old and patriotic citizens, headed by Col. McAlwy [McAlevy], who came in a body into the town of Huntingdon, took forcible possession of the Recorder's office, and burnt the records containing the evidence of the new Constitution's going into operation. This was called McAlwy's war for several years after. Judge McKean was sent to and did try the rioters or traitors, gave McAlwy a severe reprimand, and let them off without further punishment.
The records of our courts present nothing extraordinary until our Aug. term, 1840, when McConhey, was indicted in the Oyer and Terminer Court, for the murder of six persons, to wit, his wife's mother and five of her children, named Brown, was tried by Judge Burnside, convicted and found guilty of murder in the first degree, and was subsequently executed in the jail yard.
The first Church built in Huntingdon was a Catholic church, erected of logs on the lot now occupied by Wm. Orbison, Esq., [NW corner of Penn & Smith] which was subsequently removed to the northeast part of the town.
Rev. Dr. William Smith was among the early pioneers of our county, preached occasionally and baptized some children, and occasionally made surveys of lands, and secured some good farms to himself and heirs.
About 1790, Rev. John Johnson [Johnston] settled in Huntingdon, and organised a Presbyterian congregation, and taught a class of young men in Grammar, the Greek and Latin languages, which was the foundation of an academy, which is now in a flourishing condition, in a commodious new building lately finished in good style [SE corner of 4th and Moore].
A circulating library about the same time was established, which was well supplied with a good selection of books, but which subsequently went down, and the books were sold and distributed among the stockholders.
About 1785, Dr. Wilson commenced the practice of medicine in Huntingdon. Dr. Nesbit also commenced the practice of medicine about the same time and remained until his death.
But it is time to return to the early history of our county. Indian towns were at, or near where Huntingdon, Shirleysburg, Franktown, and Couch's mill, on Stone Creek, all of which were called old towns by the early settlers. The hunters lodged in and about these towns, as long as the Indians remained in them, and occupied the land cultivated by the Indians to raise corn and vegetables for their own subsistence, they prepared their corn for hominy in wooden mortars scooped out of the end of a log, and planted in the ground, called hominy blocks, into which their corn was placed and pounded sufficiently fine and soft for good hominy, which was the principal article of food for our young and hardy early settlers, until mills were erected for grinding wheat, &c.
During the early settling of our county, the manners and customs of the people were plain and simple; they addressed each other by their Christian names abbreviated in the shortest way; their clothing consisted of buckskin from head to foot, with a good Indian blanket to wrap himself in when he lay down to sleep. Thus our citizens became inured to undergo hardships and endure fatigue, to qualify them for sustaining privations during our Revolutionary War. During the French war, the settlement of the country progressed very slow. Betwixt the termination of that war, and the war of the Revolution, the country improved rapidly, several mills were erected, looms were put up, sheep were raised, flax and hemp were grown, and people commenced to manufacture cloth for their own wear. But the Revolutionary War broke out in 1775, in which the settlers and Indians became involved, and in which the former were almost always the sufferers, and for seven or eight years the country was overwhelmed with distress, difficulty, and dismay, in which massacres, burnings and carrying off prisoners and property; killing indiscriminately the old and young, women and children; which is related by the early settlers, in the papers hereunto annexed, as nearly as I could in their own words.
After the Revolutionary War, our country improved rapidly in population, in industry and economy, but still continued their thoughtless, reckless sport and fun; occasioned no doubt by the free use of spirituous liquors. This disposition continued for a number of years after the Revolutionary War. Indeed it existed and was practiced until a radical change grew perceptibly over the intelligent part of society. I will relate one anecdote of the manner in which this disposition for fun was practiced. Two neighbors met in one of our towns on the same day, both farmers. One rode on horseback, on rather a poor, small horse, but being one of the early settlers, and having assumed some degree of dignity, one of his neighbors met him in town, who had a sled with two good horses in it. There was a deep snow on the ground. The friend with the sled had been watching the movements of his friend with the horse, and when he left town for home on his horse, he followed him on his sled, to which he had a rigging of poles, which stuck out two or three feet on each side of his sled. When he got his team on the road for home, he give his horses the whip and started them at full gallop after his neighbor and immediately overtook him, who tried to leave the road, but the snow being deep he could not get off the road sufficiently, and the rigging on the sled tripped up his horse's feet, and the horse and rider fell over on the sled and were carried a considerable distance before the team could be brought up. In the meantime, the horseman began to pound his neighbor with his fist, who protested it was an accident; that his horses run off, and he could not take them up in time to let him pass, or get out of the road while he passed.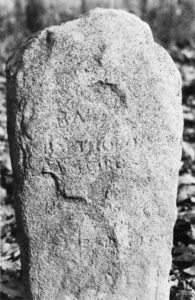 [Michael Maguire, whose account follows, was a son of Bartholomew Maguire, who settled on a tract of land on the north side of Maguire Road, Logan Township, now State Forest land. At one time, the State had erected a fence around the family graveyard. The only marked stone is that of Bartholomew, seen here. The story of Bartholomew's daughter Jane's narrow escape from the Indians is told in Africa's History of Huntingdon & Blair Counties, page 308.]
Michael Maguire, aged 78 years, gives the following history of the early settlement of our county:
His father removed into this county about 72 years ago [1773], that he has resided here ever since, that the first settlers came into our county the year of Braddock's defeat [1755]; that the first settlers, Caldwells, Andersons, Beattys, Bells, Rollers, Nearhoofs, Hollidays, Moores, Engarts [Enyearts], Willsons, Lytles, deserve particular mention; that he does not now recollect any house standing that was built at the first settling of our county.
That the country had the appearance of a wilderness when he first knew it, with here and there a cabin house, and a small patch cleared; that since the revolutionary war, the country has improved rapidly in every way, up to the present time.
That deer and wolves were the most common wild animals.
That he knows of no ancient county maps.
That he remembers an ancient kind of silver coin, about an inch long and a quarter to half inch thick, square, called cob dollars; he remembers the old pennies and half pennies, &c.
That it was reported an Indian grave was found on the farm of Conrad Bucher, Esq. about a mile north of the Borough of Alexandria — it was reported that an Indian was buried in the narrows of Waterstreet. A few years after the Revolutionary war, I was traveling in Alleghany Township, in company with a citizen who was acquainted with the battle ground, where the Bedford Scout was defeated; was shown a human skull by that man which he pulled from under an old log, on which he could distinctly see the mark of an Indian knife on the skull bone, where he had taken off the scalp.
That he always understood Alleghany, Tussey, and Warrior Ridge, and Tuscarora Mountain to be Indian names of mountains; and that Juniatta and Aughwick Rivers were Indian names.
That marks were made on trees, near to where Warrior Mark Town now stands, on Warrior Mark Run, Warrior Mark Valley; also a mark of half moon on trees in Half Moon Valley, hence the name of the valley and Half Moon Run; these marks were made on trees by Indian warriors, about the time of the early settling of our county.
That there are no revolutionary soldiers now living known by your informant; that he knows there were many Revolutionary and Patriotic songs sung by the Whigs, during and after the Revolutionary was, but he has now forgotten them.
That when the Revolutionary was broke out, the Indians took side with the British, and our county was the frontier, and was the battle ground betwixt the whites and Indians, in which the whites were generally the sufferers. We had stockade forts erected at Huntingdon, mouth of Shaver's creek, Lytles, Hartsocks, Lead Mines, and Frankstown, to which the inhabitants fled for protection in case of alarm or were attacked by the savages. The first killed by the Indians was a Mr. Hicks, at the mouth of Spruce Creek in 1778. Moses Donaldson's wife and two children were taken prisoners by two Indians, at the mouth of Shaver's Creek, out of a canoe, while her husband went up to Anderson's house for a jug of whiskey. They were tomahawked and scalped on Spruce Creek the same day, she being pregnant and not able to travel. Thinks the next family massacred by the Indians was Holliday's family on the farm now owned by Mr. Jackson. Mr. Moore was shot about this time, and George McCartney, a boy of about 14 years of age, shot the Indian while the Indian was loading his gun.
Mr. Brackenridge's family was murdered by the savages about this time, in Wood Cork [Cock] Valley, on the farm now owned by Mr. Hoover. Philips' Fort was attacked by a party of Indians. After a hard contest, Philips surrendered his fort, and 12 or 14 men, who were taken, tied, and shot to death with bows and arrows, except Capt. Philips and his son, who were saved by the savages, and then burnt up in the fort; a settlement of Dunkards were murdered by Indians in Morrison's Cove. About the same time, they attacked a miller in his mill in Morrison's Cove, named Neave; the miller slipped out through the cog pit, being pursued by the Indian; they shot at each other; both missed; Neave ran, and after running some distance, Neave stopped, commenced loading his gun, the Indian also commenced loading his gun; Neave raised his gun to shoot, but the Indian commenced jumping from side to side, Neave found he could not get a sight sufficiently certain; but after trying it a second time, he killed the Indian. For this defensive act, his Dunkard friends turned him out of meeting, and never after owned him a church member.
Matthew Dean's family were murdered in a canoe; family and Mr Simonton taken prisoners. Jacob Roller and Mr. Bubont were murdered in Sinking Valley by the savages. Mr. McLuce and a woman, name not now recollected, were murdered near McAlwys [McAlevy] on Stone Creek, by savages. About 1780 the Bedford Scout was massacred by the savages about two miles Northwest of Hollidaysburg. The Scout consisted of 30 or 36 men, and all but six men escaped. It was on a Sabbath morning; the morning was a little wet. It was Sunday also that Philips' fort was taken.
A family named Eaton were killed and taken prisoners by the savages who resided near West and Kishacoquillas Valley. About this time, McCormick's and Ewing's daughters, two young girls, were taken prisoner by the Indians, being out driving home the cows; they shot at young Alexander Ewing and wounded him, but he escaped and got into McCormick's fort.
Mr. Samuel Anderson settled early at the mouth of Shaver's Creek. He soon got a large stock of horses, cows, and hogs about him; they subsisted through winter without much feed, and any person wishing to purchase a horse, cow, or hog resorted to Samuel Anderson, and he supplied them.
During the latter part of the Revolutionary war, and in the height of our Indian troubles, a conspiracy was formed by a parcel of tories to bring in the Indians from Kittanning, and murder the whole of the whites on the frontier, from Susquehanna to Fort Cumberland, and possess themselves of their property. They were headed by John Weston and a Mr. Hare, and actually marched to the neighborhood of Kittanning about 30 men. Weston went into the town to bring out the Indians; found but two warriors at home; they came out to Weston's camp. As soon as his men saw the Indians, they jumped to their guns; the Indians became alarmed, shot Weston, and took off his scalp, and fled to their town. Weston's men returned and scattered into other parts of the frontiers. The settlers became alarmed on hearing of the conspiracy, organized a company of about 100 men to pursue them and bring them back. They made no provisions for subsistence, and they suffered great privation and hardships from hunger, and a part of them being surprised by Indians after night in their camp. After the return of the tories, a few of them were apprehended and sent to Bedford, and tried for treason and conspiracy, but were acquitted. After the war Mr. Hare was traveling in Path Valley, fell into company with a party of whigs; they caught him and cut off his ears with a knife, dulled on the edge of an iron pit, and sawed his ears off with an instrument, dulled in that way; he was also charged with shooting a young man in Hare's Valley, being disguised as an Indian.
Athletic exercises were common and much practiced by hardy and robust sett'ers, such as throwing sholden stone, pitching the rail, flinging the maul, hopping, jumping, dancing, wrestling and fighting with the fists, and the stoutest man was the cleverest fellow and gave law to the rest of the community. Drinking whiskey was very general amongst all our people, and carousing days and nights in succession. Thinks the first church was built in Huntingdon by the Catholics. Rev. Michael Cryder was the first regular preacher in the county; he was either Lutheran or Methodist; Rev. John Johnson [Johnston] was the next regular preacher; he came to Shaver's Creek about 1788; removed to Huntingdon a few years after, where he resided until his death. Rev. Dr. Smith came to this county occasionally to preach and survey lands; his brother Thomas was then a young man and was reputed a good surveyor; he subsequently became a lawyer and was afterwards appointed Judge of the court.
The above relation was made by Mr. Maguire, a citizen of West Township [now Logan], Huntingdon County, Pa., 17th June 1845, to Joseph Adams and Edward Bell, Esqs.
Relation of Robert Spencer, aged 87 years, and Hannah [Wilson] Spencer, his wife, aged 86 years, who reside in West Township, Huntingdon County, Penn., whose faculties of both are good, especially Mrs. Spencer, who says she removed to this county from Maryland about 72 years ago [1773], when she was about 14 years of age, with her father, who was induced to emigrate to this county because he had two brothers residing here then. The settlers were poor, consisting of hunters, principally Engarts [Enyearts], Wilsons, Lloyds, Lytles, two Caldwells, Andersons, Beattys, Bells, McCormicks, Ewings, Rickets, McAlwys were among the early settlers. My brother, Wm. Wilson, and William Ewing, both living in West Township.
Recollect no ancient houses now standing. Huntingdon had 3 or 4 cabin houses when I first saw it and was then called Standing Stone — cannot tell the number of inhabitants.
Know of no historical papers, &c.
When I first removed to the country it was a wilderness of woods, mountains, hills and valleys, with here and there a small cabin house, and small patch cleared – country greatly improved since, land cleared, orchards planted, houses and barns built, roads opened, canal made, grist mills built, forges and furnaces erected, towns built, population increased tenfold or more.
Deer was the most numerous of wild animals until the hard winter of 1784, after which they were not so numerous.
Mrs. Spencer further states that about 1774 Dr. William Smith preached one Sabbath at Standing Stone, and published notice that he would baptize the children that might then be presented to receive that ordinance; to the surprise of all, about eighty children were baptized in one day. And she thinks he was the first clergyman of any denomination that administered baptism in the county unless it might be Catholic.
The settlers lived poor, principally on corn bread, hominy, and venison; mills were scarce and were small, round-log one-story buildings; salt was very scarce and dear, and had to be carried on horses from Hagerstown, Carlisle, &c.
The Indian war broke out about 1778 and lasted till the close of the revolutionary war, in which the settlers suffered great distress and hardship. Remembers well the time Peter Crum was killed, near Minor's Mill, and when Mrs. Donaldson and children were taken prisoners; remembers well the dismay and confusion the settlers were thrown into by the tories' starting to the Indian town to bring the Indians in to scalp the whites; that the night following was spent in preparing for the men to pursue the tories before they united with the Indians. Next morning near 100 men were ready and started over Allegany in pursuit of them, but returned without overtaking them. After suffering great hardships in the wilderness for want of subsistence, some of the tories returned, were arrested, sent to Bedford, were tried and acquitted; some of them never returned.
The above relation was made to Joseph Adams, 17th June 1845.
Relation of William Ewing, ages 80 years.
My father [Thomas Ewing] removed to this county before the revolutionary war, found the country a wilderness, with M'Cormicks, Williams, Rickets, Dewits and M'Alwys, were all the families who resided in the neighborhood at that time. And that there were no roads; had to pack on horses or carry on our backs everything into the country; trails were made through the woods by blazing the trees that a horse and pack could barely get through. That he recollects well when the war broke out and the country was thrown in great alarm and fear. That he recollects the massacre of Donnellys at Lime Kiln Hollow, and the killing of M'Lew and a woman near M'Alwy's. That stockade forts were put up at M'Alwy's, Ricket's, M'Cormick's and Anderson's, and numerous other murders by the Indians through the war upon the citizens of our country.
That on the 14th October 1781, the Indians took my sister a prisoner, and a daughter of Mr. M'Cormick's, and attacked my brother Alexander on the road near our house by three Indians, two of whom shot at him and wounded him in his thigh, and raised the war whoop and shouted as if a dozen or more were present, and chased him into our lane, and two more shot at him but missed him; my brother James ran out with his gun when we heard the first shots and saw the Indians chasing his brother, but did not think of shooting until the Indians were gone; my brother Alexander was wounded through the front part of the thigh in front of the groin, which was healed in a few weeks. This was about the time Lord Cornwallis was taken by Gen. Washington [October 19, 1781], and shortly after all fear of the Indians or the war subsides, and the settlers looked forward with confidence to the end of their troubles. Mr. Ewing pointed to the ground [where] his brother was attacked by the Indians, also where the girls were taken prisoners. After the war I recollect my father's packing wheat to Huntingdon 14 miles on horses, and have known him send off 400 bushels in one year; we had then no roads for wagons.
The foregoing relation made to and taken by James [sic] Adams 23rd June 1845.
Relation of Mrs. Mary Crum, aged 50 years.
That she remembers hearing her father, Gen. M'Alwy, say, that when he removed to this county, he had no neighbour nigher than ten miles. That he removed his family to the county in a canoe some time about 1768, that the land all round him was vacant, that he considered it of little value; gave Squire Smith a farm if he would come and live his neighbour. That Squire Smith did remove on the said farm. That Indians were numerous and visited his cabin frequently. That he and his family suffered great hardships and privations for several years, having to pack their flour from Standford's mill near Judge Brown's in Mifflin, then Cumberland County, on their back. That in one of these trips to mill her father became stormstayed with a deep snow at Stone Mountain, and could not get home for several days; his family were without food, and must have suffered, but some Indians came to the house who could travel on snow shoes, who enquired if the family had anything to eat, who replied that they had not; the Indians kindly give them a little corn which kept them from suffering until he returned. That she further heard her father say that a daughter of Squire Smith's was bitten by a copperhead and died, and was the first person buried; that it was in time of the war, and they buried her in a remote place, and covered the grave with brush to prevent the Indians from raising her for her scalp; that a M'Cleace and a woman were killed by the Indians, and were buried in the same place, and were the first persons buried in the graveyard on her father's farm. That he heard her father say that Lytle's was the first mill built in their part of the county. That she has heard her father say he has often had his hair frozen to the ground and snow, when sleeping in an Indian blanket.
Taken down by Jos. Adams, 22 June 1845.
Relation of Lewis Mytinger, Esq., aged 80 years, and who has resided in the county 50 years, and purchased the property he now lives on from Messrs. Beattys, who were among the early settlers of the county, and owned the Water Street property, now owned by the relator, and that the place got its name from the travelers having to walk in the run for a considerable distance when coming up the narrows; hence the name "Water Street."
That the Beattys informed him shortly after they settled at Water Street they were visited by several Indians; their mother was churning; gave them a cup of buttermilk, each passed it to the other after tasting it. That their mother then set out the churn and let them drink what they would. They afterwards left, and in a day or two carried in several hams, venison, and hung it at the fence round the door.
That the relator remembers Hart, the Indian trader, who gave name to Hart's Log Valley and Hart's Sleeping Place in Cambria county. He lived in and kept a tavern in Lancaster, was an Irishman by birth. That when he removed to the county, Rev. John Johnson [Johnston] preached in Hart's Log meeting house, and when he administered the Sacrament of the Lord's Supper, the people attended for 20 miles round; that at a house or barn raising the people attended for 20 miles round.
Taken down by Jos. Adams, 2nd June 1845.
Relation of Israel Cryder of Porter Township, respecting the early settling of our county.
I am 80 years of age. I have resided in this county since 1773, at which time my father removed here with his family and built the first house in Huntingdon that was covered with shingles; shortly after built a mill on the Juniata River, about two miles above Huntingdon; remember seeing the stone standing that gave name to the place; was frequently posted at Huntingdon during the Indian war. Remember the Indians killing and scalping many of our settlers, but cannot now recollect particulars, my memory has failed so much.
We were attached to Bedford county; Col. John Piper was our county Lieutenant; the country has undergone great change since I first knew it; there was then little land cleared; cabin houses covered with clapboards, puncheon floors and log chimnies; lived much on wild meat and corn bread and ash cake. The men exercised much at running, jumping and hunting and fighting with fists, and generally as soon as the battle was over the parties made friends.
A great and wonderful change has come over the appearance of our county; towns have been built, houses and barns have been built, orchards planted, land cleared and cultivated and enriched by manure, &c.; manufactures have been established, furnaces and forges have been erected, and in successful operation; mills are erected, tanneries are in operation, and the people are improved in their condition and appearance in the same proportion. In place of the hunting shirt, the people all wear good cloth coats; instead of going bare-footed or wearing mockasons, our people wear good shoes and comfortable boots; and instead of running bare-headed or wearing coarse caps, we have comfortable fine hats; instead of coarse hominy and wild meat, no people on the face of the earth live better.
Taken down by Jos. Adams, 8th April 1845.
Mr. Bell furnished the following list of first settlers of Canoe Valley: Edward Beatty, Absolom Gray, John Williams, B. Smith, John Weston, Levi Hicks, John Bell, Thomas Moorehead, Gertham Hicks, Moses Hicks, Wm. Symington, Matthew Dean, David Lowry, Widow Vanzant and three sons, John Stewart and his two sons, James and David, Thomas Donley, Wm. Laird and son William, Nathaniel Rockwell.
Relation of William Wilson, of West Township.
I am now 89 years old. I came to this county about 75 years ago [1770], along with my grandfather. That there was no houses built, nor land cleared, except at his grandfather's, Anderson's and Caldwell's; that the plantations round were known as McNitt's deadening, &c.; that being the only mark or sign of improvement on most of the farms; that he knew the Caldwells, and heard one of their wives say she was ten months in the county without seeing a white woman, and that they lived on terms of intimacy with the Indians, and when the war of 1763 broke out the Indians warned them to depart and leave the country, for bad Indians would kill them. That they had to carry their flour from where Waynesburg [McVeytown] now stands, for several years. That he remembers well the time Denbys were killed in the narrows below Petersburg. That their living was rough and poor for a number of years. That our family were on their way to Huntingdon to the fort; met the Indians at Big Spring, both parties retreated; he and young brother went east; lay out all night; next day found their way into Huntingdon. That he was with Peter Crum the night before he was killed at a deerlick, but separated before it was quite dark; on his way to another lick heard a sharp whistle on a charger, and immediately retreated and made his way into the fort; informed them that there were Indians about, but there was no notice taken of it, and next evening Peter Crum was killed by the Indians on his way from Miner's Mill where he had been all day grinding. As soon as he was missed three of us from the fort started after him; I was the first to find him; he had been shot and scalped, we carried him into the fort. I was along with the scout that went in pursuit of the tories across the Alleghany; thirty or forty started the next morning after we heard it; expected to overtake them in Tuckahoe, but they were gone; we pursued them across the mountain on the Kittanning path as far as Clearfield; we had no provision and were obliged to return, but we met a recruit or reinforcement with some bacon; some of our men united with them and continued the pursuit; about two weeks gone; we were one hundred strong, we sent out spies, some of whom were killed by the Indians; but we missed the tories; Weston, their leader, was killed at Kittanning, and his men scattered and returned to the settlements by different routes and eluded us. Our provisions were exhausted several days before we returned, and our men suffered much from hunger, some had to be carried in on horses, and became so weak that the least trip would throw them down, but all succeeded in reaching Frankstown, except those killed by the Indians, and recovered from the fatigue. In about two weeks some of the tories returned to our county, were arrested and sent to Bedford, but were pardoned or acquitted. Our county has undergone vast improvement since I first knew it; population has increased ten-fold or more. We had no peculiar custom among us, except that our people were universally in favor of drinking whiskey. It was used when friends met, when they parted, when they were sick, and when they were well, when they were born, and when they died, when they were cold and when they were hot, when they lay down and when they arose; indeed it was a universal panacea.
Memoir of Hon. David Stewart, Esq., one of the Associate Judges of Huntingdon county from its Organization until his death in 1826, near forty years.
His father, John Stewart, emigrated to Canoe Valley in this county, amongst the early settlers, together with his two sons, James and David, the subject of this memoir, then boys, and two daughters, Mary and Catharine. When the revolutionary war broke out his father took the whig side along with the patriots of those days, and being enthusiastic in the cause of the country, volunteered in 1777 to travel to Col. Piper's, who was Commissary of the county, for ammunition. The journey was performed in the dead of winter, and the ammunition had to be packed on horses. A snow storm came on, and Mr. Stewart being obliged to walk a great part of the way home, contracted a pleurisy, of which disease he died a few weeks after his return, leaving his four children orphans; and none of them having arrived at maturity, they returned to York county, whence they came into this county, where they remained until the Indian war closed. David being ambitious of becoming a scholar embraced every opportunity of improving his mind, by going to school, which he did with success for several years, and greatly improved his own mind by reading and study, until he became a very good English scholar, and acquired the art of writing a neat, clean, round hand, with dispatch, which few could excel. After the Indian war closed David returned to this county and settled on the farm occupied by his father, pursuing the honorable calling of agriculture until his death, which occurred in 1826. He also engaged with a company of gentlemen in the manufacture of iron, in 1806, but it did not turn out profitable, and he sold out his interest in Etna furnace and forge a few years after, and saved his homestead farm, and thereby secured an independence, having early laid the foundation for future usefulness by a good education and virtuous and industrious habits; and when Huntingdon was stricken off from Bedford county, and the constitution of Pennsylvania was adopted in 1790, he was chosen by a large majority of the citizens of the county to represent them in the legislature of Pennsylvania, which he did with great dignity and honor, and having attracted the notice of that distinguished man, Governor Mifflin, he was appointed by him one of the associate judges of the county, under the new constitution, until his death, and discharged its duties with signal ability and integrity; possessing naturally a clear and discriminating judgment, and possessing a faculty of conveying his thoughts with ease and clearness, it gave him a standing amongst the officers of the court, and the citizens of the county, which few associate judges in our state can enjoy; add to this his good countenance and pleasing manner, which always gives delight to those with whom we associate, and especially those in high or responsible situations. His death was universally lamented.
By Jos. Adams
Dear Sir: —
On my route to Pittsburg, by the way of the Juniata Division of the Pennsylvania Canal, I accidentally met with a citizen of Huntingdon county, who informed me that he had been a resident of that county for forty-six years. On enquiring as to the appearance of the country, and changes which took place within that period of time, he related, among other things somewhat remarkable, "that in 1796 he first visited "Standing Stone Town," the title by which "Huntingdon" was then known. Jno. Cadwallader, Esq., one of the earliest settlers of the place, an attorney at law, had, about that time, brought a man of the name of Michael Duffy, with a printing press, from Philadelphia, for the purpose of printing a newspaper, and by way of encouragement to the trade, he procured the establishment of a post-office at Sugargrove, five miles below the borough or town of Huntingdon, of which Joseph Cadwallader (now living in the neighborhood of Hollidaysburg) was postmaster, but the office was a "dead-letter" for something more than one year, before a mail route was established in the county. The newspaper, however, went into operation, and the editor obtained his supply of city papers, from which he culled his news, through the politeness of the merchants who visited the city twice a year.
This state of affairs lasted but a short time, as George Kline, of Carlisle, editor of the Carlisle Gazette, started a private mail, by the way of Chambersburg, which visited Huntingdon once in two weeks, bringing the Gazette and R. Harper's "Franklin Repository," which produced considerable relief in the news department. Independent of this accommodation on the part of Mr. Kline, his post-man, George Hacket, amused the citizens on his arrival with a tune on the fife, of which he was a capable master.
In a short time afterwards, Mr. Cadwallader procured a mail route from Harrisburg to Huntingdon, on which a horse-mail was carried once a week; but Mr. Duffy was unable to make a living by the publication of his paper, and removed to Baltimore in 1798.
Jno. R. Parrington succeeded Mr. Duffy as a printer, by permission, but only for a brief period, as some of his creditors deprived him of liberty even to carry on his establishment.
January 1801, the "Huntingdon Gazette" was established, which continued to be permanent.
In 1802 or 1803, a number of enterprising citizens, among whom were Robert Clark, Esq., of Clark's Ferry; Cochran, of Millerstown; G. Mulholland, of Lewistown; G. Galbraith, of Waynesburg [McVeytown]; Jno. M'Connell, of Huntingdon and Jno. Walker of Alexandria, established a stage line which, by permission of the postmaster-general, was extended to Alexandria, seven miles west of Huntingdon. This company succeeded in running their stage through from Harrisburg to Alexandria and back in six days; from once a week, it increased to its present speed between the same points, in twenty-four hours.
West of Alexandria, a mail route, at the time, was scarcely thought of. The roads, in fact, were scarcely passable on horse back. The freight of iron from the works in Huntingdon county to Pittsburg was as high as seventy-five dollars per ton, in fact, my informant added, that he himself was in company with a team which took three days to travel from Munster to Ebensburg, a distance of seven miles.
The "Northern Turnpike," through the indefatigable exertions of Jno. Blair, Esq., was commenced in the year [blank] and completed, between Harrisburg and Pittsburg in 1822. The canal was commenced in 1826 and finished in 1831. The turnpike is now entirely abandoned as to heavy burthens. The freight on iron, west, generally from 7 to 5 dollars per ton; east, 5 to 6.
Mr. M'Cahan was the first successful printer of a newspaper in Huntingdon.